Here are three good quality charms made of 925 sterling silver, worn as necklaces, courtesy of Soufeel!
Soufeel
an online jewelry store known for providing a very similar service Pandora. Pandora, for anyone that doesn't know, sells customizable bracelets. You buy a bracelet, pick your charms, and put it together yourself. Soufeel does the same thing except at a fraction of the price.
I'm not personally into charm bracelets, but I do like necklaces! And as it turns out, Soufeel's charms can be easily worn as necklaces instead. And boy, do they have some cute charms!
Here are the three that I picked:
Four leaf clover, $19.95
Pink bon bon, $15.95
Moon Goddess, $19.95
And the chain I got to put them on:
Lobster Claw Clasp, $9.99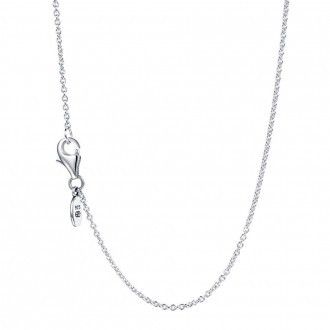 Everything I picked is made of 925 sterling silver. (That means 92.5% pure silver.) And for that, there is the number "925" engraved on all of them.

The package arrived from China. Inside the envelope was a cardboard box that read "Soufeel," and inside the cardboard box was this: a nice little bag and box with a sky blue bow: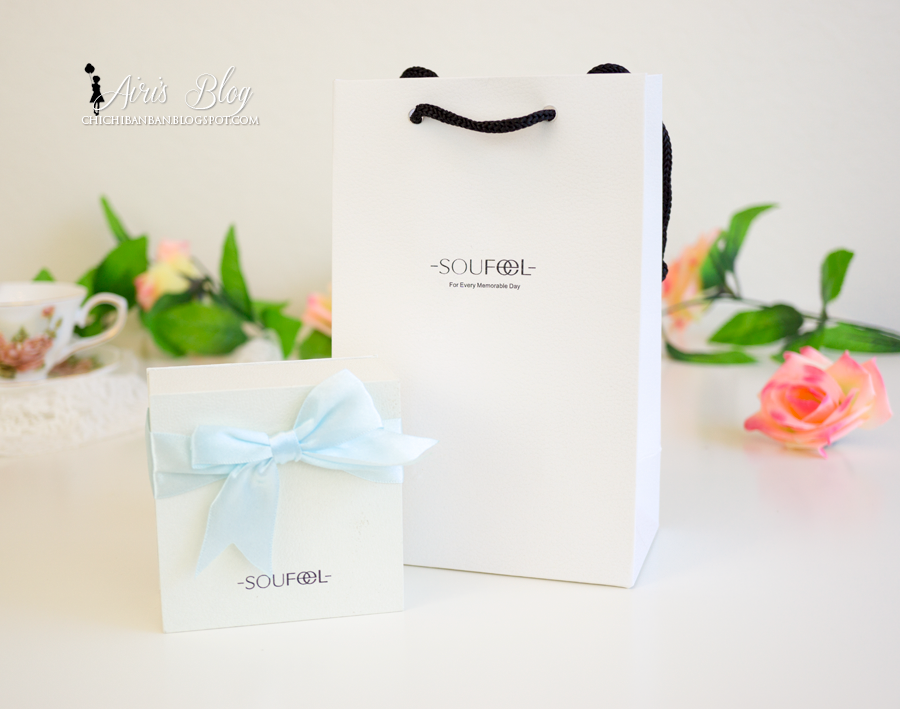 The jewelry was stored inside the box, each in their own little bags: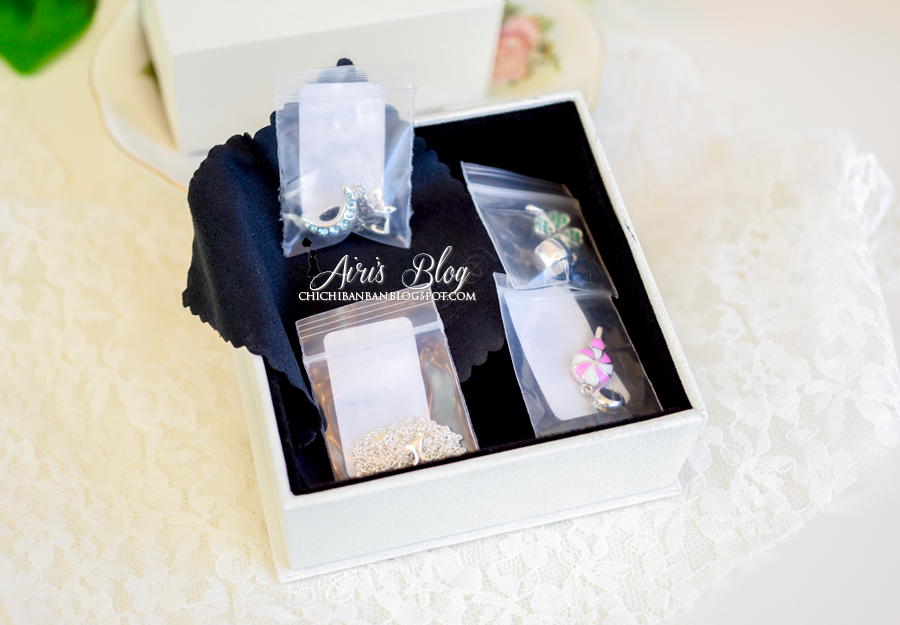 We'll start with the necklace that I put them on!
1.) Necklace chain, $9.99
The chain is a typical pale silver, nothing too blingy. It doesn't tangle at all. There are 3 rings available for you to clasp it at. To give you an idea, its longest option rests about 3" below my collarbone, so it's about average length.
Total chain length: 17" long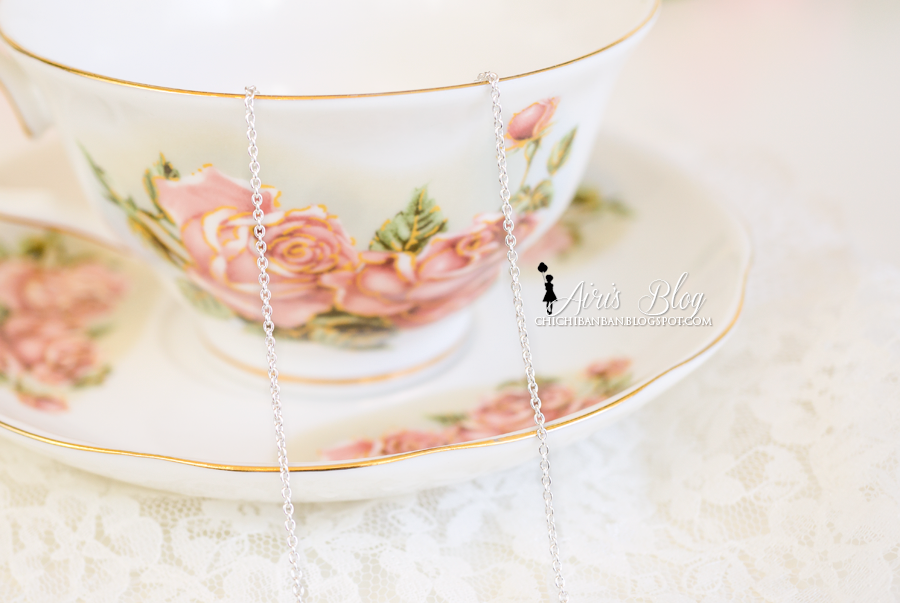 the 3 circles for you to clasp it on: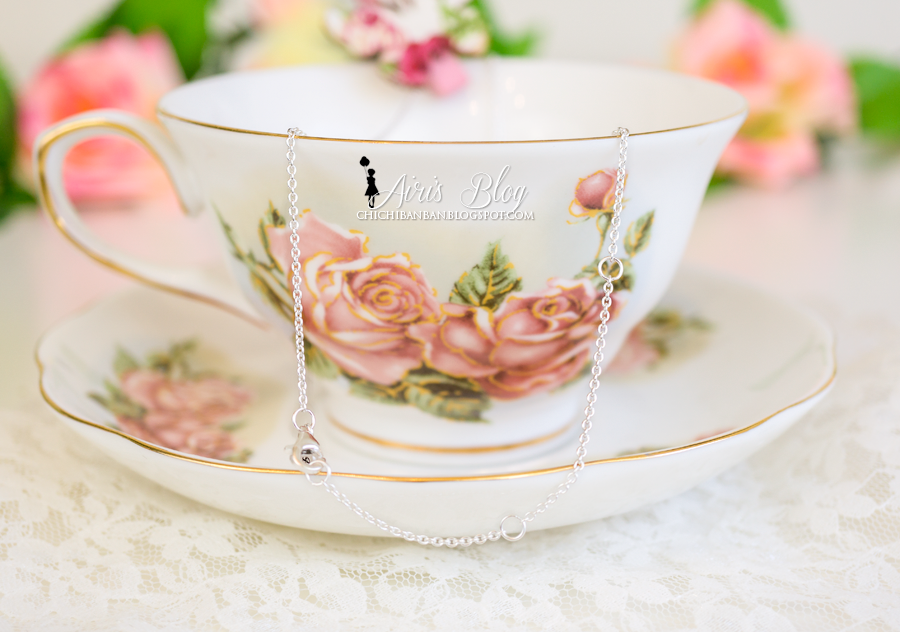 the clasp: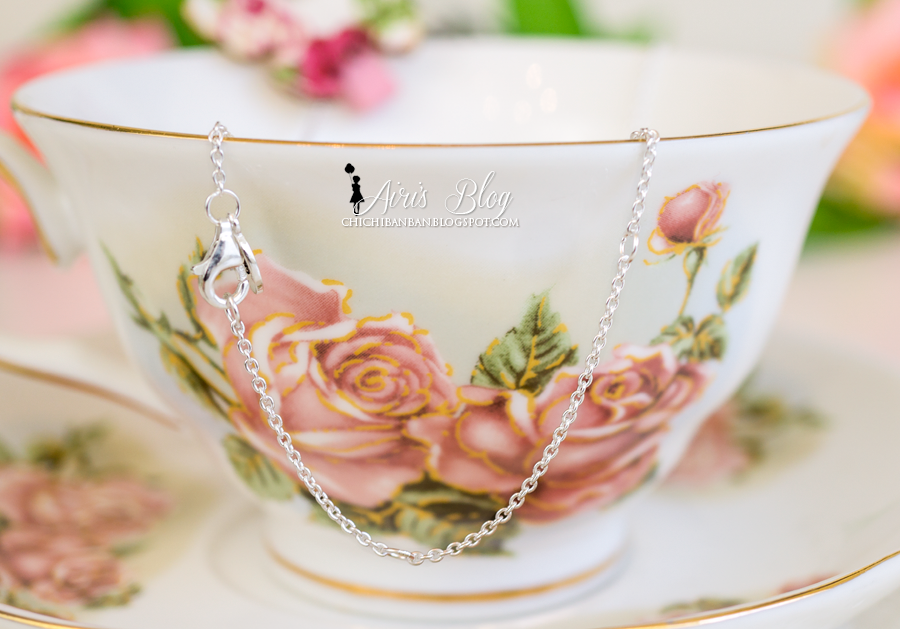 2.) Four Leaf Clover, $19.95
It's a think, flat clover. The beads are a cool sea green, as opposed to a warm yellow green. The charm is shiny overall, but not quite blingy, if that makes sense. It reflects light similar to how aluminum foil does, but it doesn't sparkle like a crystal. The quality is sturdy; it doesn't bend despite being a thin shape.

Height (not including the ring): 1.4cm long, Width: 1.1cm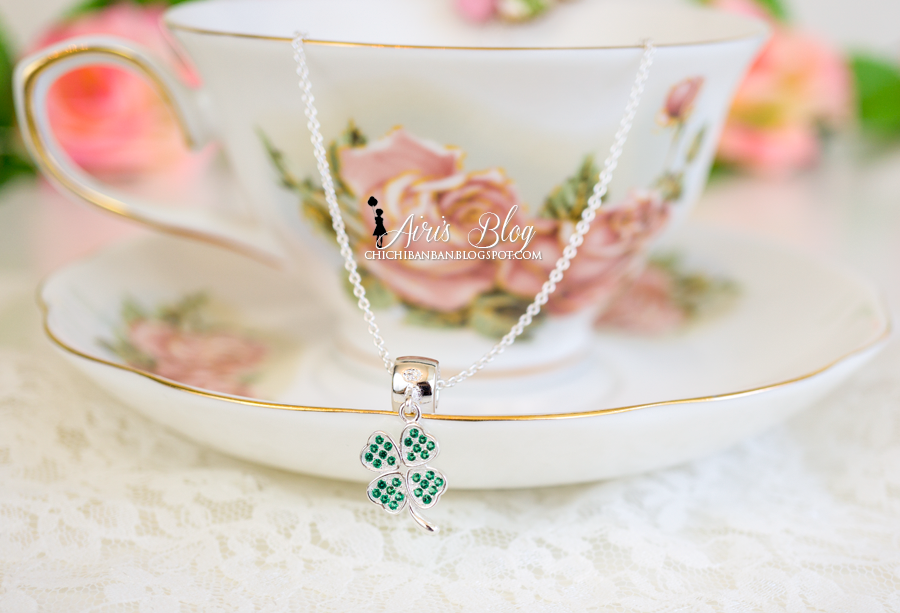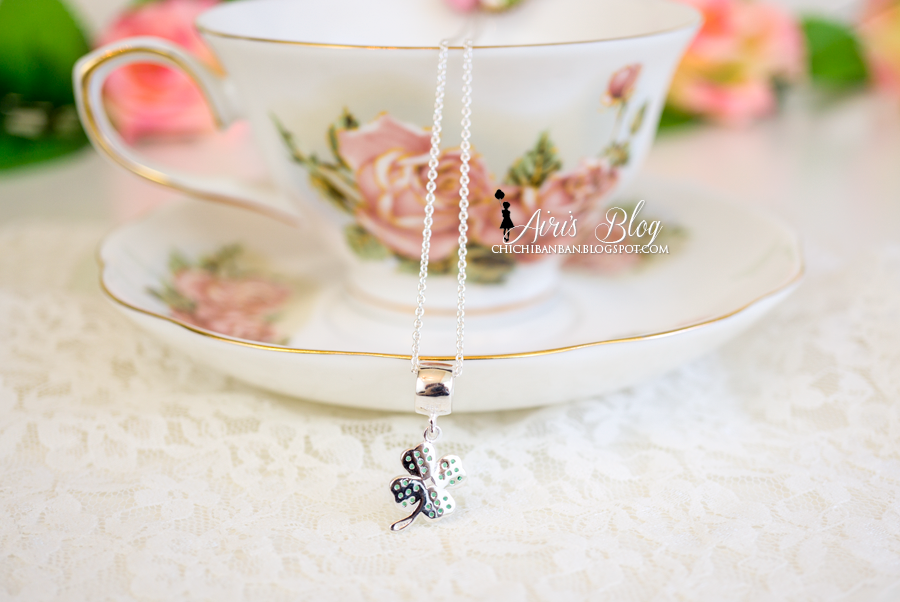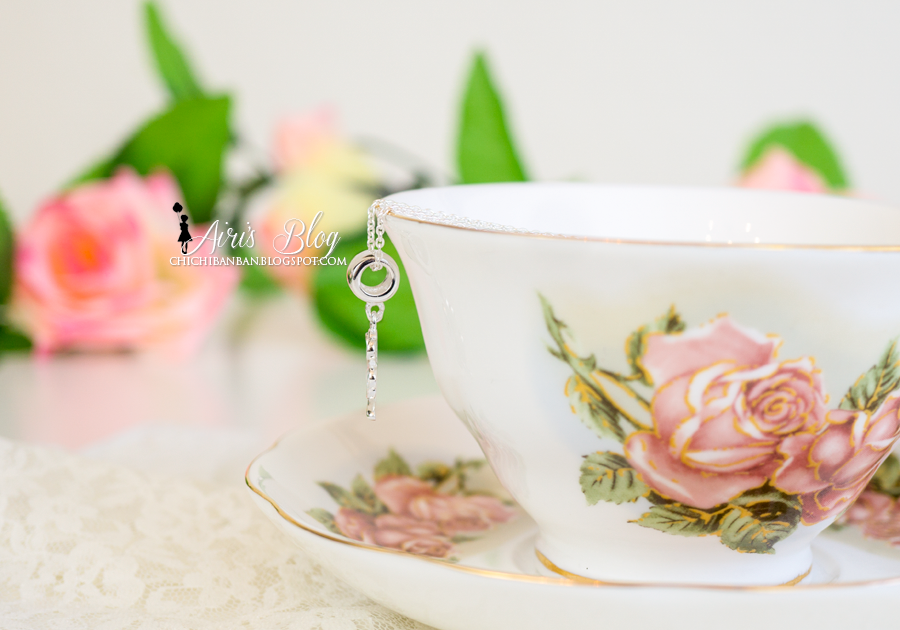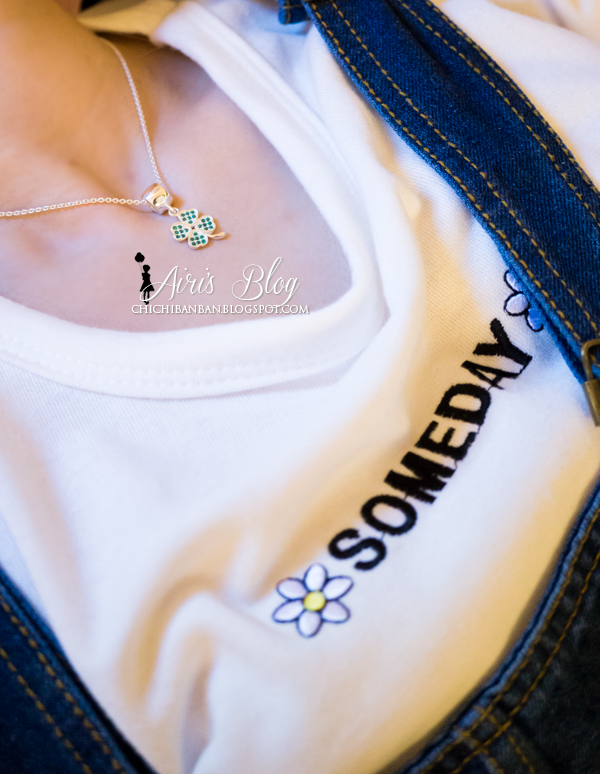 2.) Pink swirly lollipop, $15.95
This lollipop is much thicker than to the other two, so it's a pretty solid build. It's got a round depth to it. The pink and silver colors are darker than in the product photo. There's almost have a grey undertone to them. This makes the charm matte; it's not shiny or blingy at all. And on one side, the silver lines are a bit muddled.
Height (not including ring): 1.5cm, Width: 0.9cm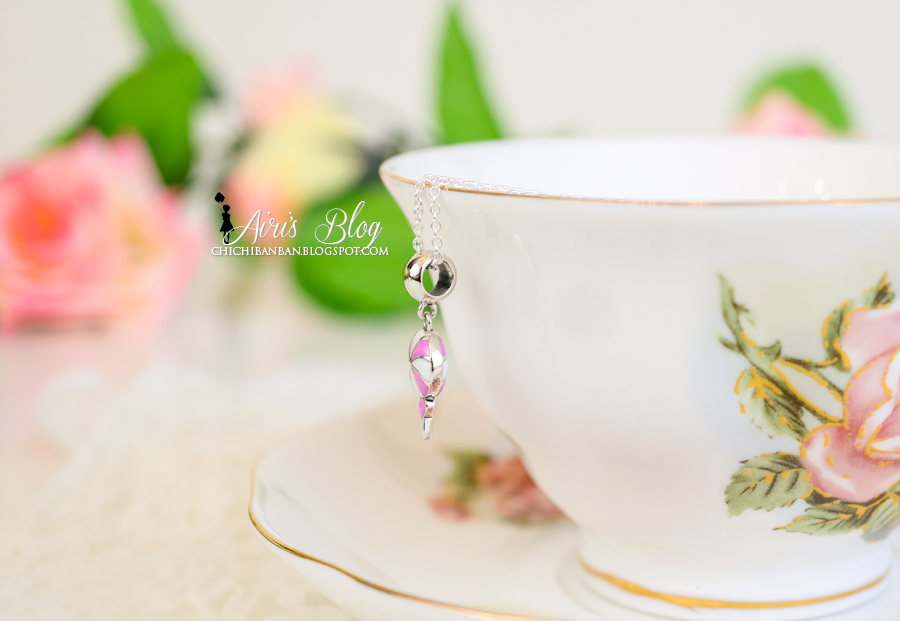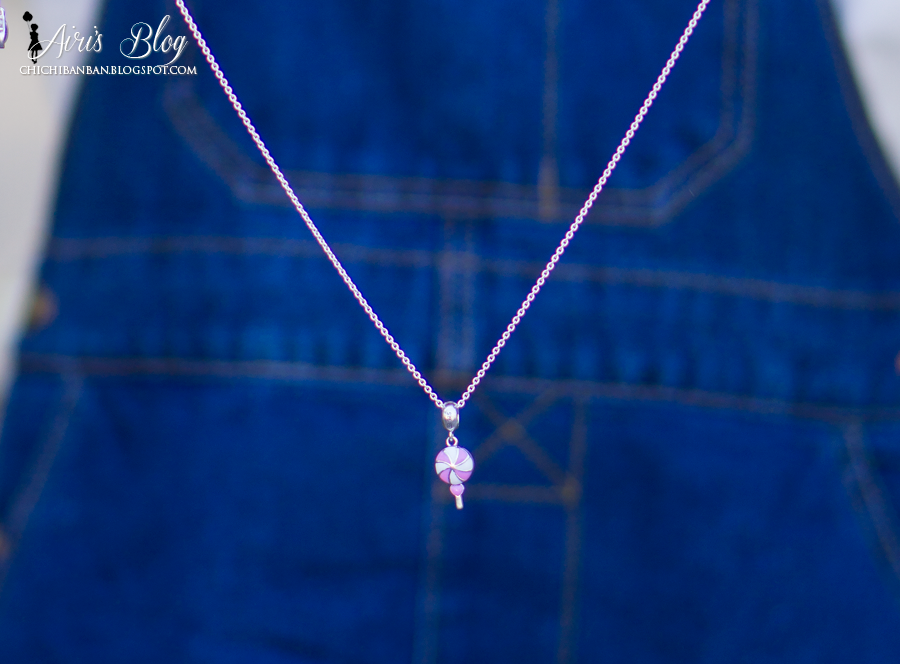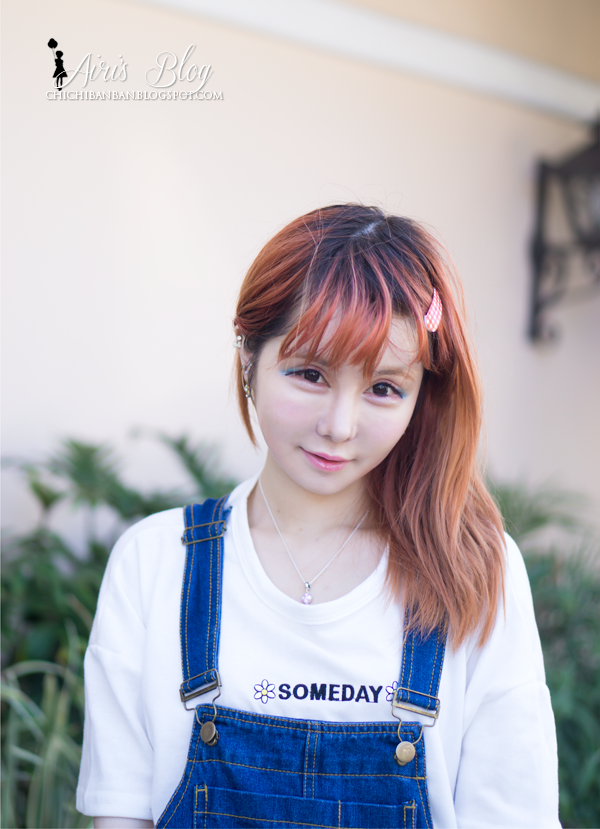 3.) Fairy dangling under the moon, $19.95
The crystals on this charm are a cool sky blue. They are blingy and shiny. The silver portions aren't, though.
The interesting thing about this charm is that the hole is through the charm itself. The chain (be it from a necklace or bracelet) passes through the moon rather than a separate ring. It doesn't look strange! though. And as you can see, the moon is quite thick; there's no question about durability there. The fairy is much thinner, but despite this, her wings do not bend when I squeeze them. Quality is solid as far as I can tell!

Total height: 2.6cm; Width of fairy: 1.2cm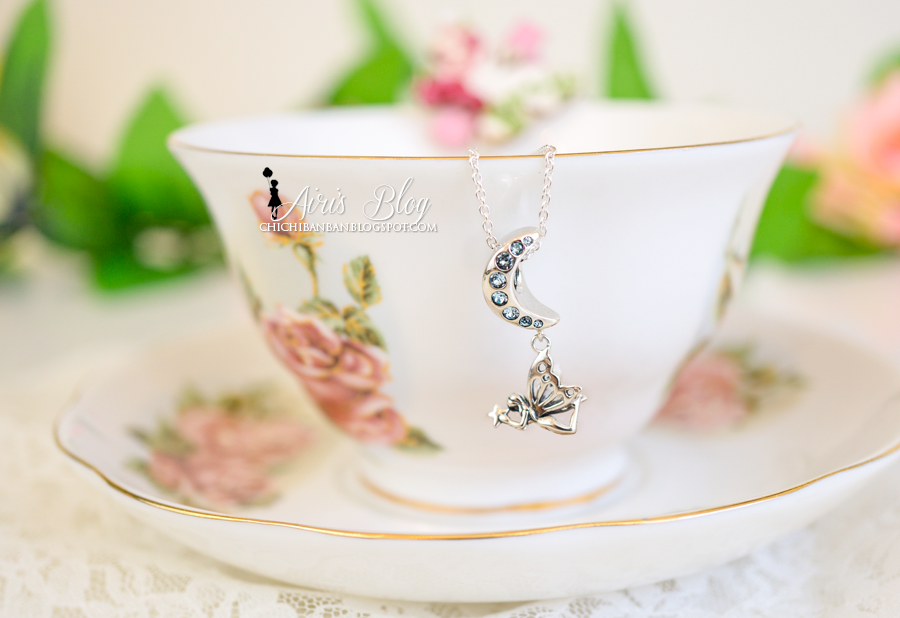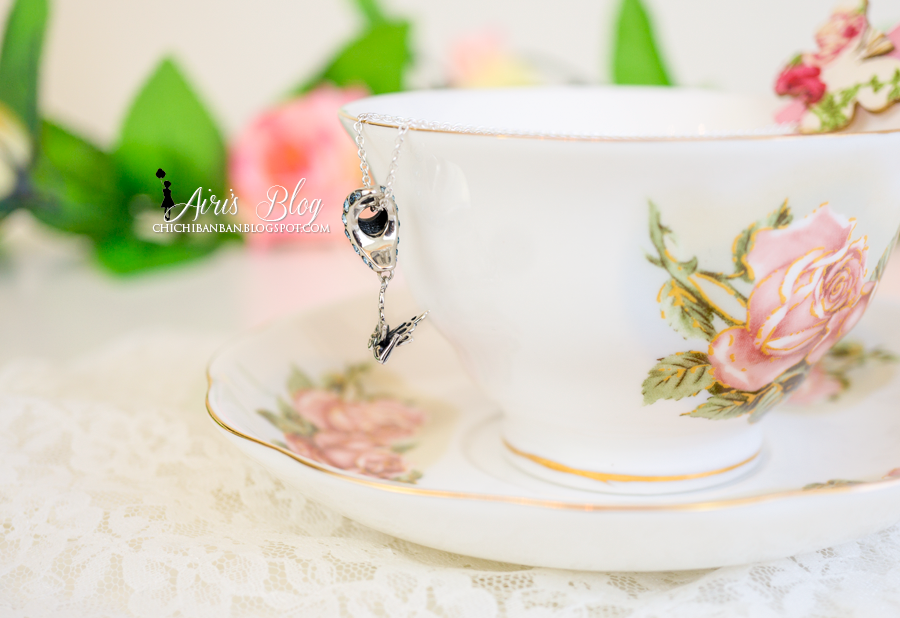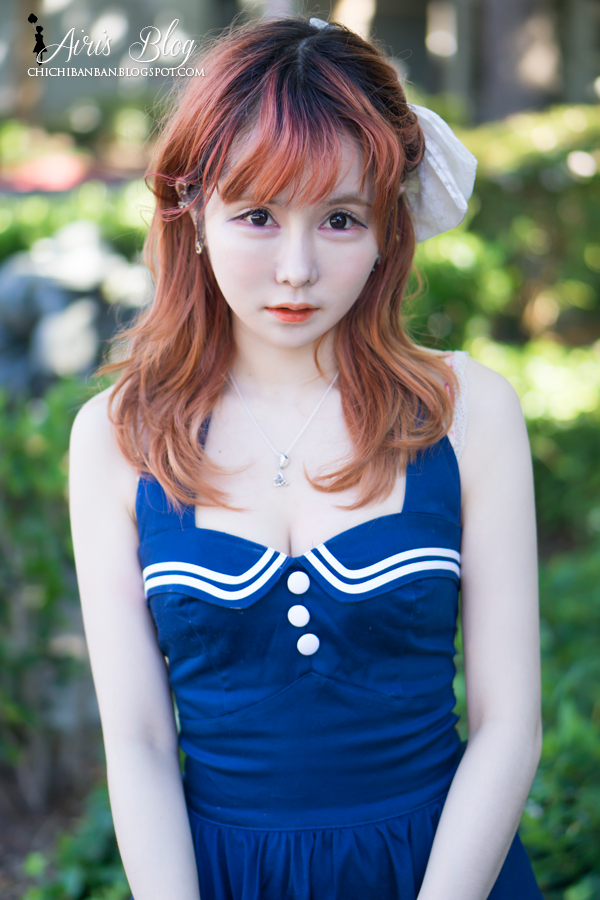 I like them! I think the charms (and even the box they came in) are adorable. The necklace is great; I love the weight it has and its inability to tangle. I will say that the clover and lollipop were less shiny than I expected, but it wasn't too disappointing. The clover is still bright overall. My biggest remark would be that the lollipop isn't a baby pink like I had expected. I still like them, though! Still very cute :)
TIP!
Soufeel also sells necklaces, but the price is the same as buying the chain and charm separately. So if you're planning on purchasing several necklaces, it might be cheaper to just buy one chain and choose the charms separately. That way you get more selection, too! Soufeel has tons of charms of all sorts of flavors. Blingy, elegant, cute, quirky…the list goes on.
Soufeel's jewelry is made of either 925 sterling silver, 14K gold, or Swavorski crystals. They offer free shipping worldwide for orders over $50, which would be about 2-3 necklaces. If you'd like to check them out, be sure to use my coupon code "
Airi5
" for 5% off! And if you don't like the items, they have a 365 days return policy.
5% coupon code: Airi5


Thank you for reading! Tell me what you think of the charms I picked out ^^