Back when Etude came out with their Minnie Mouse line, they also "Minnie-fied" the packaging for one of their mascaras, the infamous Volumecara: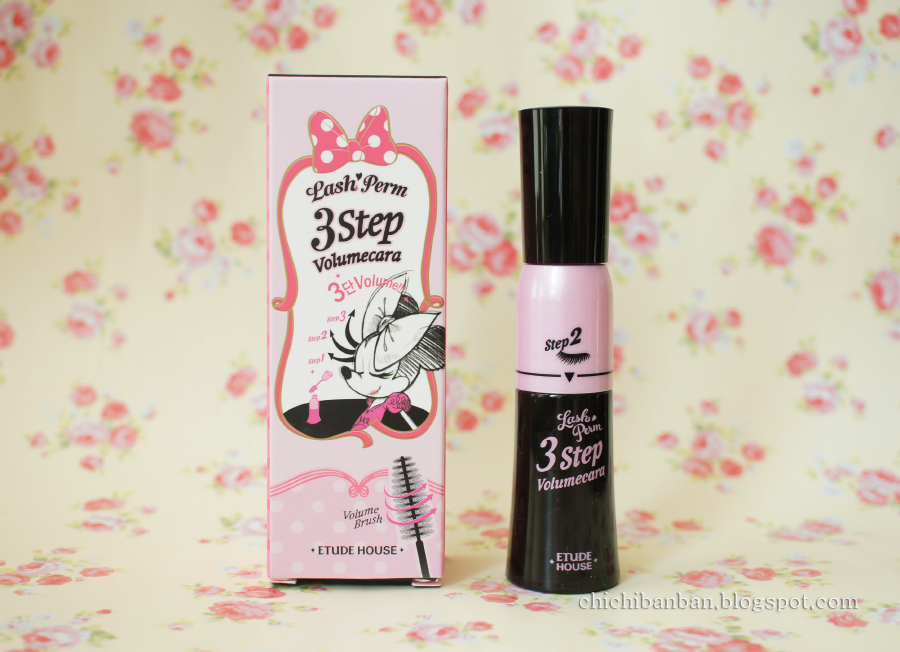 So aside from the revamped packaging (which I believe lasted only while the Minnie craze was on), this is quite an old product. I'm a major slowpoke, but here are my two cents anyways! (Long story short, it's nice!)



--------------------



Brand: Etude House
Name: Lash Perm 3 Step Volumecara Review
Amount: 9.5g
Actual Weight: 33g
Price in Korea: 13,000KRW

Ingredients:
water, acrylates copolymer, iron oxides (CI 77499), paraffin,kaolin, copernica cerifera (carnauba) wax, beeswax, stearic acid, behenyl alcohol, hydrogenated polyisobutene, cetearyl olivate, sorbitan olivate, tromethamine, milk protein extract, glycerin, acacia senegal gum, potassium cetyl phosphate,1,2-hexanediol, hydroxyethylcellulose, isostearic acid, dimethicone, silica, inositol, butylene glycol, glycine, serine, glutamic acid, aspartic acid, leucine, alanine, lysine, arginine, tyrosine, phenylalanine, valine, threonine, proline, isoleucine, histidine, methionine, cysteine, potassium sorbate, phenoxyethanol

Here is the Minnie-fied box: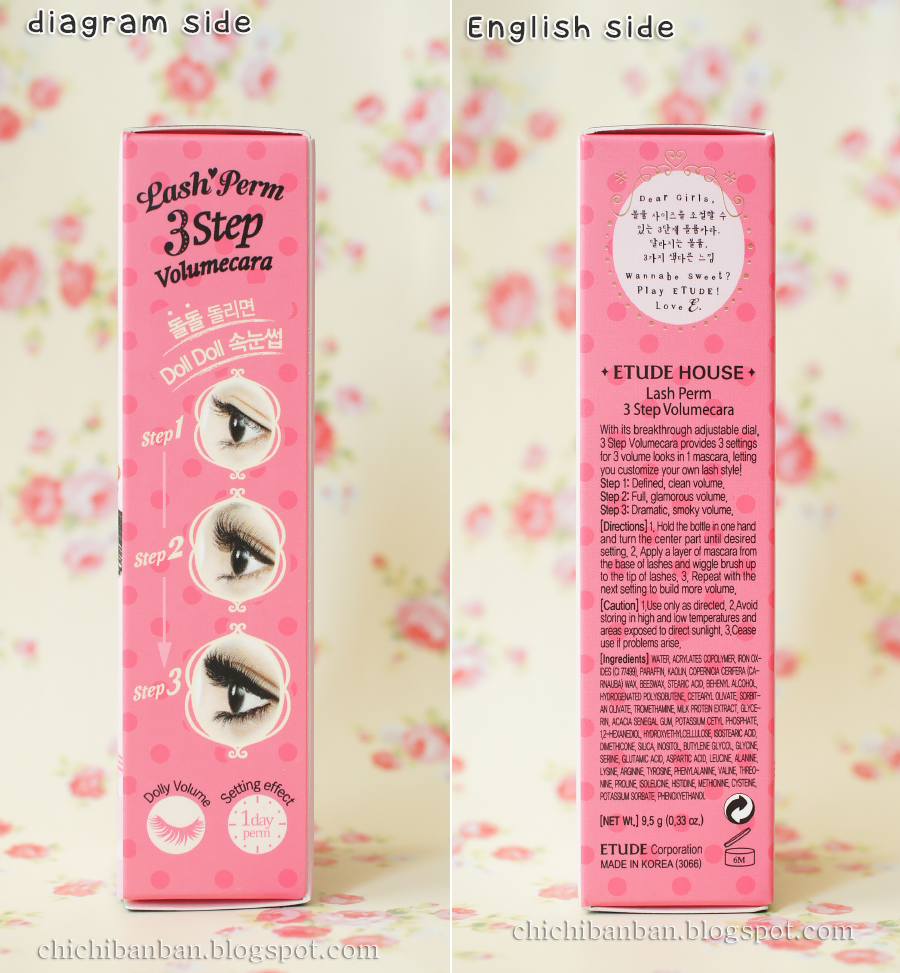 Closeups of the description, directions, and expiry:


*Notice the expiration; it lasts only 6 months?!
And here is the mascara tube: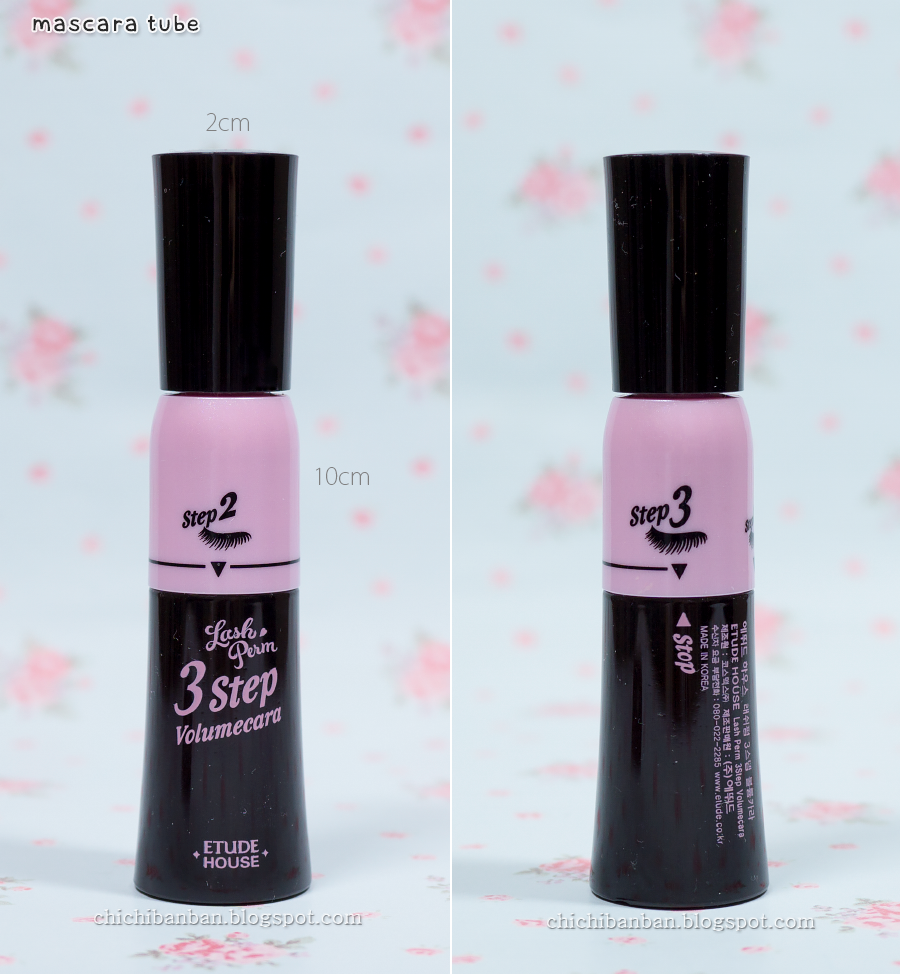 This is the interesting part. The "3 step" part of this mascara refers to the 3 different settings in which you can twist the tube. Doing so adjusts the amount of mascara that gets loaded onto the brush, with Step 1 being the least and Step 3 being the most. Here's a video demonstration:
(It's about a minute long.)

The idea is that with each successive setting, you build up volume exponentially. As I mentioned, there isn't much difference between Step 1 and Step 2, but with Step 3 there is a lot of mascara on the brush:

In these pictures I've just followed instructions and applied Step 1, Step 2, and Step 3 in order. But of course, you can switch things up by using only one setting, stopping after Step 2, etc!
In the first picture I've applied it modestly, brushing on only one layer of each Step. In the second photo I was very liberal and applied two to three layers of
each
Step.

Length:
It darkens and defines my lashes, which makes them
look
longer (especially at the tips), but the actual length of my lashes didn't change much.
Volume:
Volume is definitely buildable! As you saw above, both a thin, defined look and a voluminous, clumpy look are possible.
Curl:
I don't have pictures, but it holds my curl fairly well. My lashes began to lose curl at Step 3 (which would be the third coat.) I find that if I prop my lashes up while it's drying, my tips will stay upturned.

Waterproof:
With water, it might clump a bit; but otherwise, it stays put. It doesn't smudge or run…just don't touch it. A gentle dab or two (to get rid of the water) won't do much, but actual rubbing will make it come off:

The more I put, the more easily it smudges off if I touch it. On the plus side, that's essentially how to remove the mascara: just use water! Most of it comes off easily with a water, though I must admit that the last remaining bits can take me several more tries to clean completely.
Lasting Power:
If it's dry, it doesn't really rub off:
It lasts throughout the day and doesn't flake off on me.
I like it! I must say, though, I think the whole "3 steps! Breakthrough packaging that allows you to choose between 3 different styles!" is a gross exaggeration (and wickedly successful marketing scheme) for what is essentially just applying 3 layers. One could argue that this wand versatility does make some difference, and I agree. It does! But comparing the small difference it makes to how fancy they make their twisty packaging seem, I still find the two disproportionate. If anything, twisting the packaging takes more time for me to apply (swipe, put back in, twist—oh wait, I twisted it the wrong way—twist back, take out, swipe, repeat process.) It's a bit frustrating in that aspect.
That aside, I still think it's a very nice mascara! But as a mascara, adds volume, stays put, and rinses off easily. It doesn't really lengthen so much as it accentuates what I already have, but I have no complaints! I will happily use it until it's empty and possibly buy another, this time with less expectations on the magical twist packaging. :)