This is a very sensitive topic. I will be talking about race, and it may not be what you want to hear.
I am going to be very honest and upfront,
but remember that you are not obliged to read anything that might upset you. Believe me, I know what it's like to dream about a country or a culture as your ideal place. And it's very easy to become defensive and protective of the image we have of it. However, I will not tolerate any attacks or insults directed at me out of willful ignorance. If you do choose to read this, please remember that
these are not my own opinions
. I am simply reporting on what I've gathered and observed from living in Korea and familiarizing myself with the culture and people.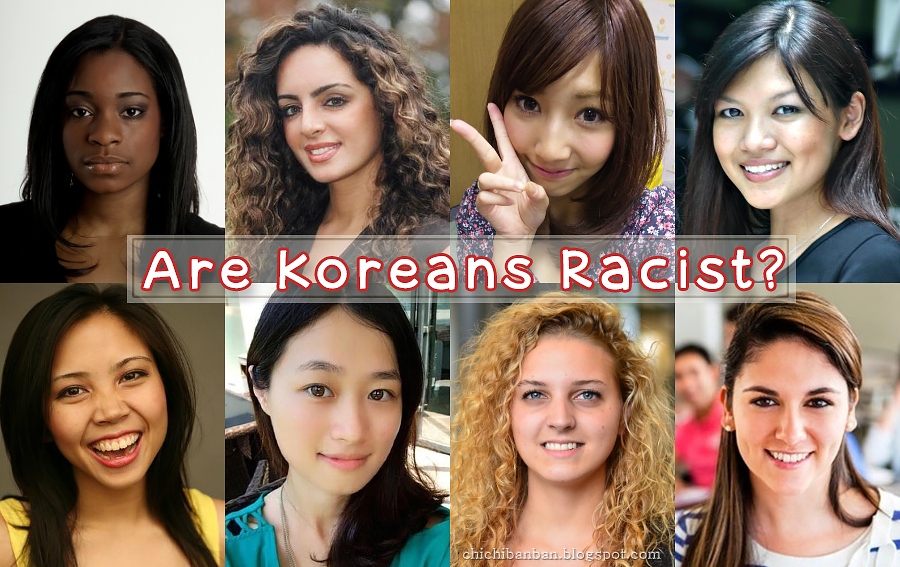 Yes, yes they are. There's no question about it. Many native Koreans, when in a safe environment with close acquaintances, will admit it as well. Koreans are, on average, more judgmental about race than the average American.
Korea is a very homogenous country. Unlike in Canada or America where many of your acquaintances have their own ethnicity and culture, there is little variation in Korea—just about everyone is Korean. Everyone's friends, classmates, and teachers all have the same black hair, brown eyes, and Korean features as they do. They all celebrate the same holidays, share the same values, and carry the same mannerisms. As a result, Korea is a very close-knit and nationalistic society. To be fair, I doubt Korea is any more racist than other East Asian countries. I can't speak for Southeast Asia or all Western countries, but I know that China and Japan have a similar attitude toward racial differences.
The racial hierarchy centers loosely around the development and wealth of the country in question. But as you'll see, it correlates greatly with skin color—lightest at the top, darkest at the bottom. The following is a
*crude*
(emphasis on the crude) diagram that depicts how non-Korean races/countries are often ranked in people's minds:
USA
Europeans, other predominantly-white countries
Japan
Taiwan, Hong Kong
China
Southeast Asia
Philippines
Blacks
(There are some countries that I didn't include and I apologize for that. I don't know about the rest; it never came up in conversations and I forgot to ask.)
A couple points of elaboration:
USA:
Americans are generally treated
very
well by Koreans. It goes back to the Korean War, where America played a humongous role in helping South Korea. Quick history lesson: China and North Korea had overpowered South Koreans and forced them all the way south. Busan was the only city that had not yet been seized by North Korea. Then America came in and cleverly cut off the North Korean army's supply lines, pushed the North Korean army all the way back up, and recaptured Seoul. And for this, Koreans have an exuberantly friendly attitude towards Americans. This attitude has even trickled down to the current generation.
Japan:
The hatred towards Japan stems from history—the colonization, war atrocities, comfort women, all the way to the modern day Dokdo/Senkaku Islands dispute. As one would imagine, this hatred is stronger with the older generation. As for the younger generation, they also resent the Japanese government. But in terms of regular Japanese people and Japan as a whole, it fades into a mixture of contempt, rivalry, and finding them strange. Unlike China and other Southeast Asian countries, Koreans don't necessarily look
down
upon the Japan, given that Japan is an undeniably developed and wealthy country. Rather, it's more of a resentment for their politics and history, as well as a rivalry (constantly trying to one-up them in whatever they can.) Another aspect is pop culture. Japanese and Korean pop culture and style are vastly different, and many Koreans find Japan's "otakuness" weird and off-putting.
China:
Unlike Japan, China is be one of the countries that
is
actually looked upon by many Koreans as subordinate. That is, it's perceived to be lower than Korea, almost as if less civilized. This ill impression of China likely has to do with the news stories that come from China, though I can't say for sure. What I can say is that there are many Chinese immigrants in Korea, and they are perceived similarly to how Mexicans are sometimes perceived in America—coming and "stealing" jobs, things like that. However, I hear that this is slowly changing as Koreans are beginning to realize that there are, in fact, many wealthy Chinese.
Blacks:
The perception and treatment of blacks varies. With the emergence of hip hop in Korean pop culture, some blacks are seen as cool. Black men can be seen as strong and masculine. In this case, these blacks are often treated the same as white American foreigners—that is, viewed as charming, exotic and treated very well as a result. However, there is also the possibility of the exact opposite. Many Korean people also see blacks as dirty, scary, and in the extreme case, less than human. This is more likely to happen to blacks from Africa rather than blacks from America. (And by "less than human" I don't mean people will literally think that they're not human; I mean that they won't treat them with the basic respect and consideration that a human being deserves.)
I know that some black English teachers have testified online or in videos that Koreans are not racist, and I of course can say nothing against their experiences. However, I also think there is a possibility that the language barrier prevented many of the negative comments from being understood. There is an episode of Hello Counselor where a black student from Africa, fluent in Korean, talked about the discrimination he faced in Korea. People would make racist comments in Korean (assuming he couldn't understand), refused to sit next to him on the subway, and when he told a girl that he was from Africa and not America, her face showed disappointment. His friend also told a story of how an ajumma blocked the seat next to her on the subway (using her legs) so that he couldn't sit down.
Ethnic Asians who grew up abroad
: I did not include this in the chart due to position ambiguity. However, in the case that an Asian American is asked, "Where are you from?" replying with his/her ethnicity implies that they actually grew up there. In other words, to say that one is Chinese implies that he/she is literally from China. And as you can guess, naming an Asian country will elicit a different (less positive) reaction from naming a Western country. Another aspect to consider about being Asian American is the ability to speak English. In Korea, English is such a valued skill that it's almost synonymous to power.
How does this affect daily life?
First, it's important to note that this concept of being treated well and not being treated well applies predominantly to foreigners
who live in Korea long term.
Going to Korea as a tourist is a very different experience than staying to live; the sample size of experiences is incomparable. Staying long term while working or going to school subjects you to many small, daily life experiences that you don't get as a tourist. Furthermore, people who are clearly tourists are generally well received, regardless of ethnicity.
As far as the quality of treatment, it's not so much that non-white foreigners are treated
poorly
, as it is that white foreigners are simply treated
that much better
. Have you heard of the term "white privilege"? It's a horrible-sounding term, I know. I want to clarify that I am
not
attacking anyone with this. But to really wrap our heads around this racial divide in Korea, we have to come to terms with the fact that white foreigners are seen as enchanting, exotic, and beautiful in Korea. As a result, people are generally very patient and polite to them. It's not uncommon to be showered with compliments or given free gifts (extra cookies at cafes, free drinks at restaurants, extra prizes and freebies from street stands or raffles, extra food from food stands, or perhaps even random food from random strangers.) In a way, they're treated better than Koreans themselves.
On the other hand, while being non-white doesn't necessarily mean that one will be treated poorly, it's likely that they still won't be treated
quiite
as nicely without the mystique of being white. People might be less peppy and willing to help, for example. They're less likely to compliment the foreigner's beauty, nor randomly give them extra cookies or tteokbokki. In the event that this foreigner doesn't speak Korean, it's very possible that Koreans will be less patient and more frustrated with his/her not understanding than they would for a white person. Being frustrated means either raising their voice, being passive aggressive, maybe outright rude, or otherwise clear about their displeasure to help.
Now I don't mean to imply that being white makes every single day in Korea glorious, nor that being non-white means constant oppression. The examples above are under the assumption that the foreigner speaks little to no Korean, and even then they won't happen every day. In terms of daily life, it basically boils down to a difference in people's enthusiasm and willingness to help—more enthusiastic to help white foreigners, less enthusiastic to help non-white. Apart from this, the mentality of looking down upon other races is generally kept behind closed doors. This is because for most people, this racial prejudice is unconscious (rather than being an constant, active thought) and comes mainly from overgeneralizing a country or a culture as a whole.
In other words, people may think racist thoughts when judging a country or culture from afar, but those thoughts won't necessarily come into play when actually interacting with someone face-to-face. Adults understand that these thoughts are not politically correct, so even if they do believe in them, they know it's unacceptable to say or display them in public (although some people are certainly more transparent than others.)
It's similar to online trolls. They think and say hateful things when judging from the comfort of their own home, but they could never own up to these actions in public. Trolls would probably act supportive or empathetic in the face of someone they secretly dislike.
Speaking of public displays, there are many multiethnic idol groups nowadays. You may also hear idols speak positively of foreign celebrities—they might say Rihanna is beautiful, for example. The thing to remember is that not every Korean person will be as open-minded or politically correct as an idol. Idols get more exposure to other cultures than a regular person would because they travel and live with their fellow foreign members. Similarly, not every foreigner is part of a Kpop group or as famous as Rihanna. What fans feel about a handsome idol or celebrity doesn't necessarily represent how they feel about that country or of the people as a whole.
And of course, not everyone is racist. I, too, am generalizing about the average, regular Korean person. There are certainly many outliers. Just like anywhere else, some Koreans are nice, some are mean, some are racist, and some are not. Then there's every point in between.
Just to reiterate, these are not my own opinions. In this post I only mean to divulge in honesty how things are; I've done my best to leave out my own opinions about this. But as you can probably guess, this racism upsets me a lot. However, I in no way mean to blame or put pressure on anyone. No country is perfect, and Korea is far from alone in this. Lastly, please remember that there are many factors that will affect someone's experience, so no one can guarantee what yours will be.