This review was requested by Sataa! Sataa was looking to buy this product as a possible solution for dry skin, but wanted to figure out if it was worth the shipping fee. In light of that, I wanted to give an extra thorough examination of it, meaning that this review is a bit long!
My short answer is that it's a nice product and definitely worth a look for both normal and dry-skinned gals, though for the latter, it still won't solve everything. For my long answer, read on!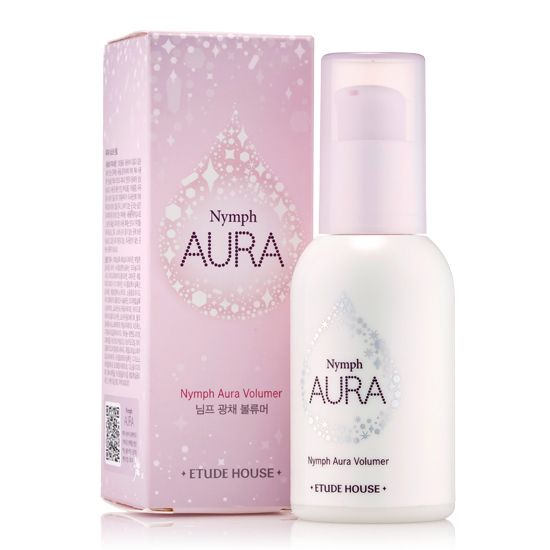 --------------------




Brand: Etude House
Name: Nymph Aura Volumer #3 Transparent Watery Aura
Amount: 24g
Actual Weight: ~ 75g (I forgot to weigh it before using it this time ㅜㅜ)
Price in Korea: 15,000KRW

Directions: Mix with BB Cream in a 1:3 Volumer : BB Cream ratio. You can also use it as a highlighter. If you do that, there's no need to mix with the BB Cream; you can apply the Volumer directly.
The theme of this review is how the Volumer affects the BB cream, and how it compares to BB Cream alone. For reference, I currently have normal skin. My nose is oily and bumpy, but still has some flakes. All pictures were taken outdoors in the shade on a sunny day.
The box is a light lavender color, decorated with gradient and glitter detailing: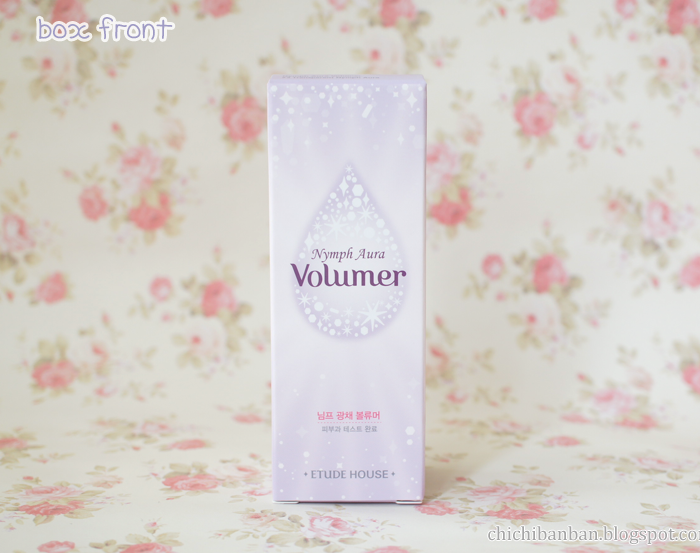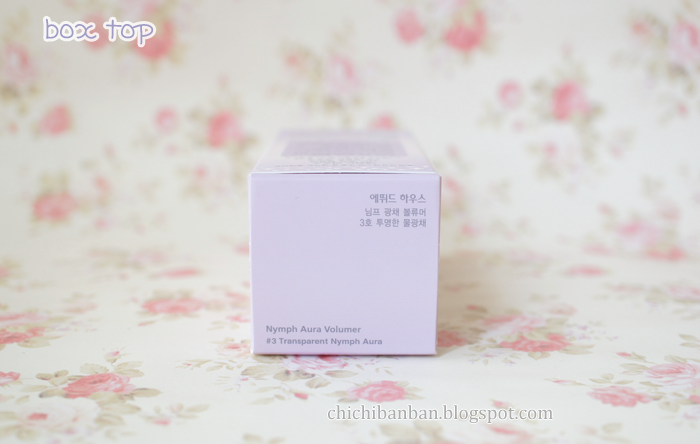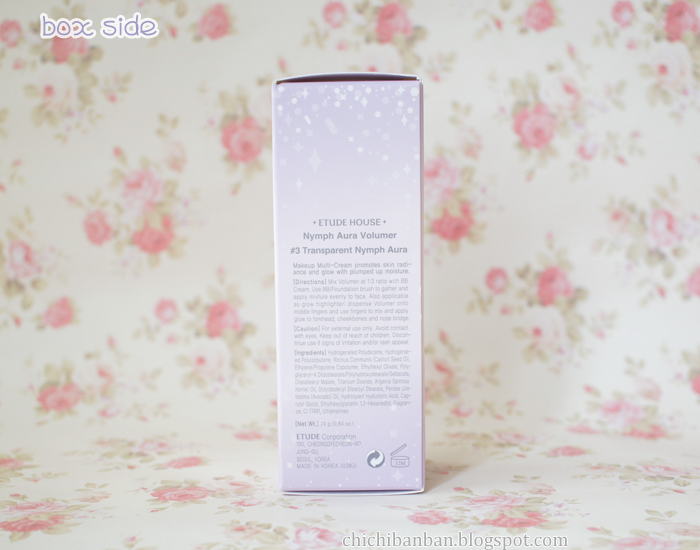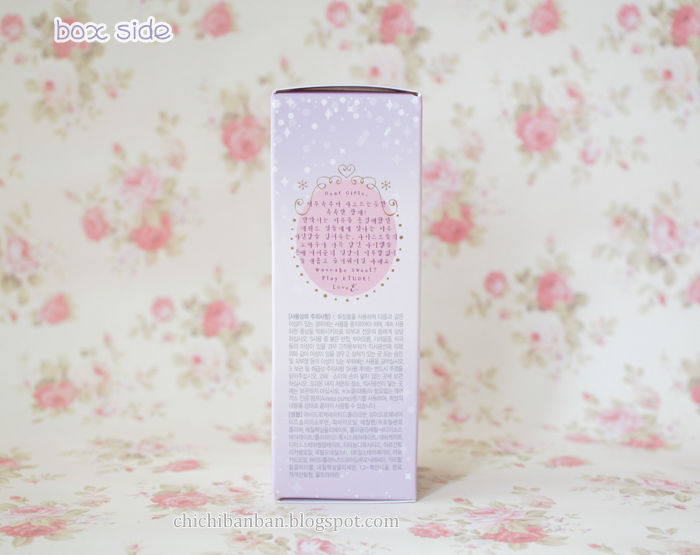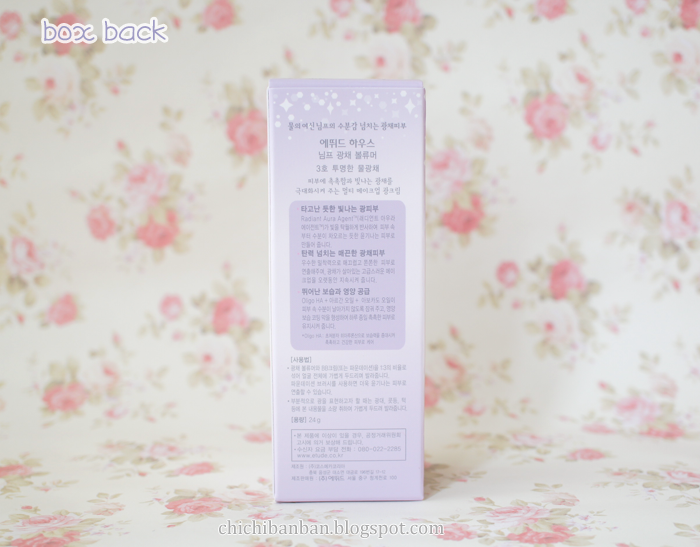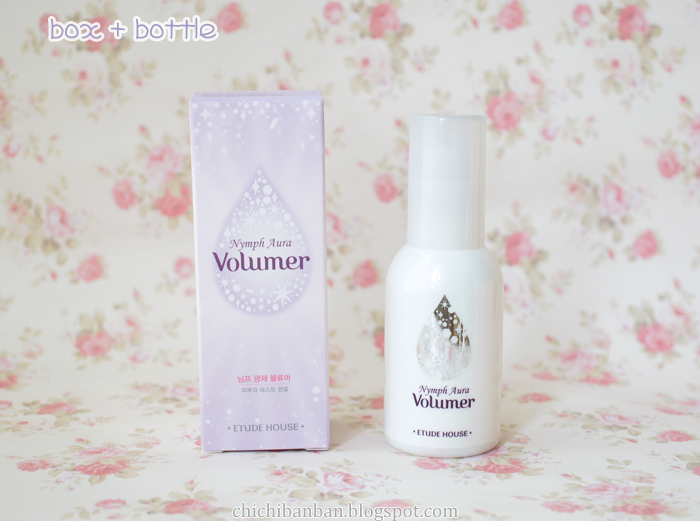 The bottle itself is predominantly white, though the center artwork and cap top are reflective: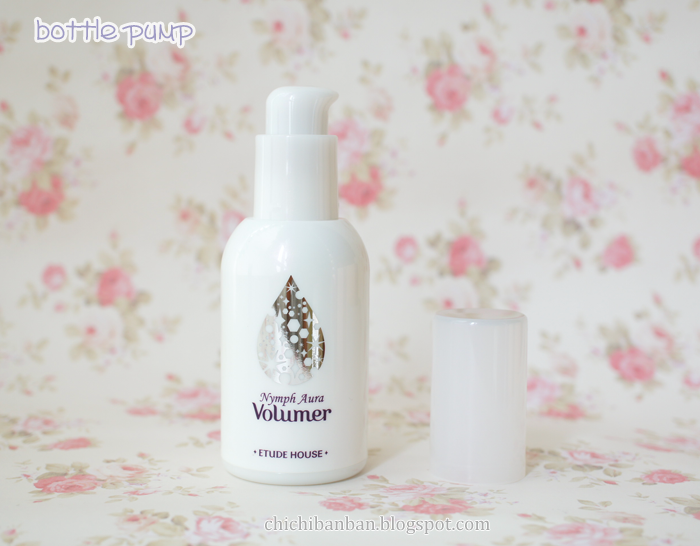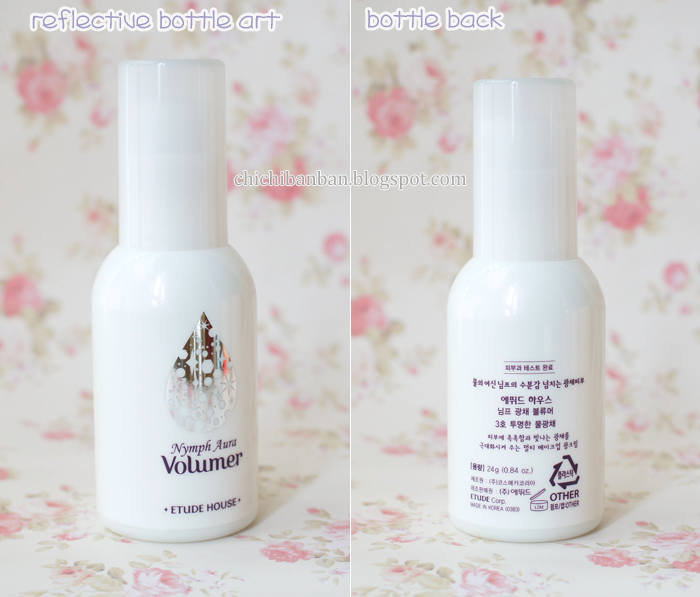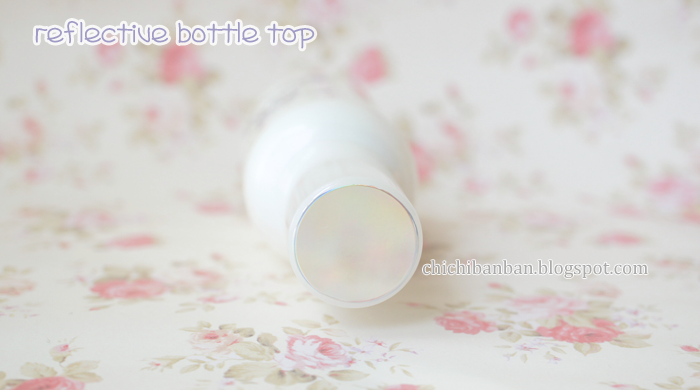 The volumer comes out light pink, but is clear when you spread it out. There is no shimmer. The volumer does not affect BB Cream color.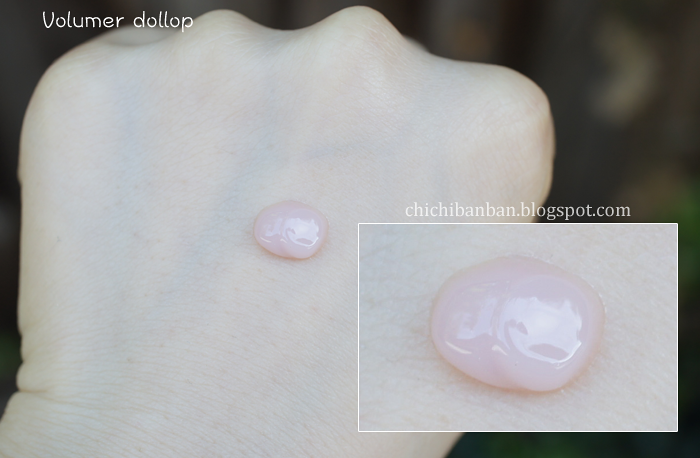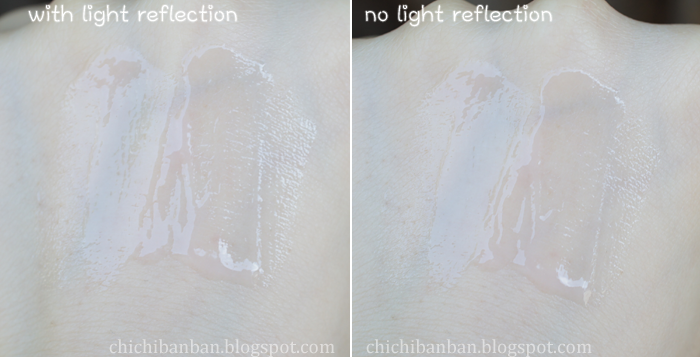 It's thin and spreads out easily. It's not sticky at all. It feels similar to oil, I say.
Hand Swatch Demonstration with BB Cream:
It makes the BB Cream much runnier. As you can see in the following picture, the bottom swatch with Volumer added to it is dripping down my arm. It began dripping as soon as I finished mixing it: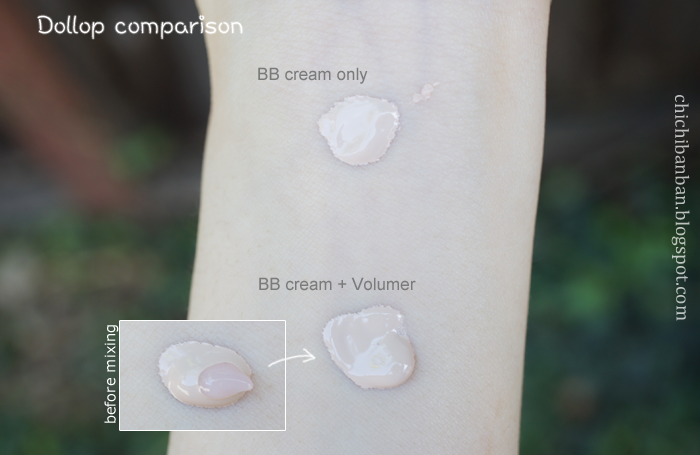 To get another idea of what texture is like, notice how it's still dripping even as I begin to spread it out.
Since it was so runny, it took more rubbing to get it completely absorbed and blended. Here is the fully blended swatch, where you can see a subtle difference in shine (look towards the right.)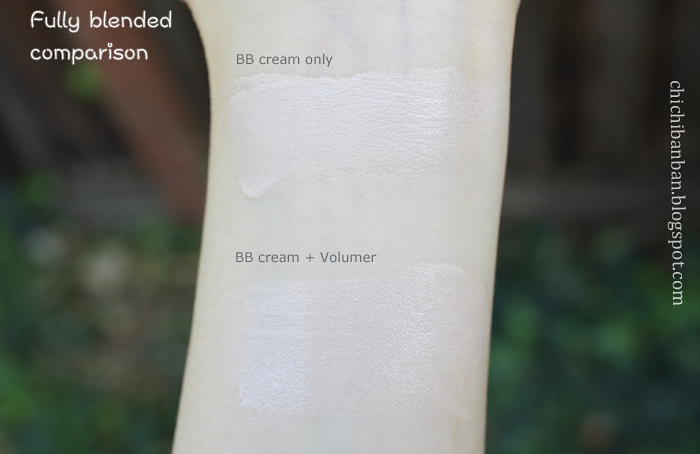 Although I've probably gone a bit over the 1:3 ratio in the above pictures, I've found that even if I add
less
than a 1:3 ratio, the effect is still present! It still makes it considerably thinner—at least enough to notice a difference while I'm applying. This brings me to my next topic!
How it feels when applying it on my face:
From the perspective of dry skin:
When I first bought this product I had dry, flakey skin. (I currently have normal skin.) I remember back then, using the Volumer felt like real sebum. The BB Cream felt as if it melted into my skin, rather than sticking on top as a dry, cakey disaster.
From the perspective of normal skin:
It glides on effortlessly. However, it streaks much more easily with my foundation brush. It also comes off easily when I dab my fingers to blend the streaks.

General unevenness, pores:
It looks much smoother overall. It doesn't accentuate any of my deep pores, whereas BB Cream alone tends to accentuate them (sometimes BB cream even sinks into them and forms little dots!) Instead, the Volumer creates a very even canvas on my bumpy nose. It still clings my nose flakes a liittle, but only a tiny bit. Overall, it's a greater improvement than any primer has given me.
Unfortunately my camera couldn't pick up the difference on my nose, so here's a demonstration on my boyfriend's skin instead. Don't laugh at him! His pores are quite big. Notice how BB cream alone accentuates them, but Volumer evens them out: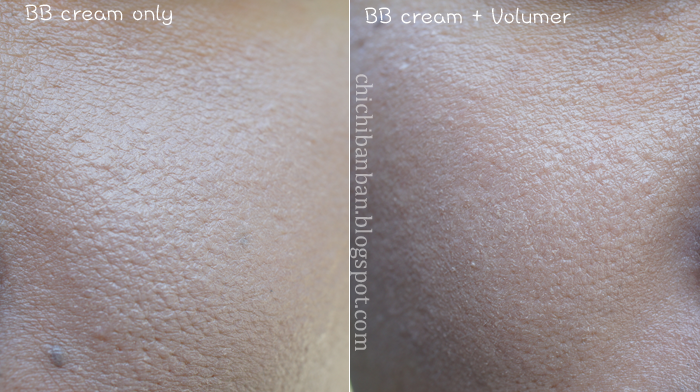 Powder blush:
Continuing on with how it smoothens pores, let's talk about blush. Blush, as well as most powders, tends to accentuate my pores. But with the Volumer, my blush looks much smoother overall--none of that powdery texture! It's not a
huge
improvement, but enough that I noticed!
Red acne scars:
I found the coverage for redness more or less the same regardless of Volumer: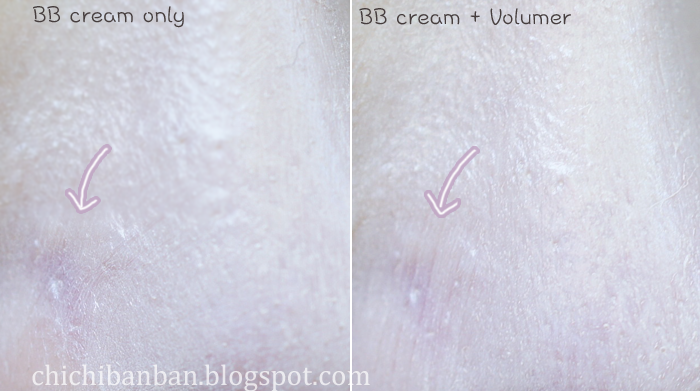 (I did say that it streaks more easily!)


Flakey crusty pimple:
You know when your pimple hardens and forms a crusty, outer layer and it's hard to conceal? Using Volumer doesn't make much difference here, either.

Back when I had dry skin, I could feel some moisture when using this. It was as if there was a layer of protective oil that kept me from feeling dry. As of now I don't feel anything when I wear this.

Surprisingly, I've found that it only gives me a subtle dewiness, hardly different from not wearing it at all! It's also less obvious in ample bright light than in dim light:
Bright light, outdoors shade on a sunny day: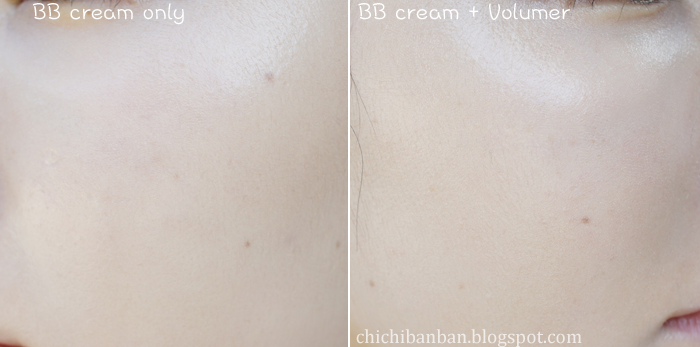 Dimmer light, inside car garage on a sunny day: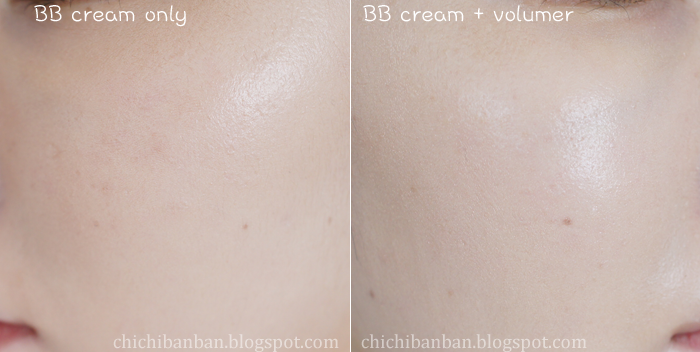 I will note that because my skin is no longer dry, I no longer absorbs any inherent dewiness provided by the BB Cream itself. That causes any difference between using Volumer and no Volumer to be less drastic.
Another reason why I think the dewiness is so subtle:
The Volumer is not shiny; it doesn't have shimmer beads. The Volumer only causes the BB Cream to be runnier. You'd think that'd make my skin dewy, but instead it just forces me to blend more. So in the end, I spread it out thinner, thereby offsetting any possible dewiness anyways. Makes sense?

My BB cream is more prone to streaks caused by scratching when I use this. But in terms of general melting (i.e. without touching my face), it still stays put just fine, no different from BB cream only. The exception is my nose, which is oilier than my cheeks. BB cream there melts off much quicker when I use this.

Summary:
I think it really emulates the feeling of natural sebum. It basically makes the BB cream thinner. It makes the BB cream glide on, but also requires more blending for the streaks. It smoothens my skin well in terms of pores and general unevenness. However, it doesn't fix my crusties or major dry flakes. (It still clings to my dry flakes a bit, though it's definitely better than BB cream alone.) It also doesn't make me very dewy.
Opinion:
Even though I don't have dry skin anymore, I still like it! My skin doesn't look bad with BB Cream, but this just makes it look
even better
! I especially love that it allows me to use blush without accentuating my pores. I will continue to use and buy this, unless I find a better version. I'll definitely dial down on the 1:3 ratio though. Since I already have my own sebum, my nose area gets pretty shiny as the day goes on!
Recommendation:
I definitely don't recommend this product for oily skin. For normal-skin, I say it's optional! You already know that I'll still be using it. And as for dry-skinned gals, I think it will help ease the application and will help your face makeup overall, but it won't fix everything, especially if you have a thick dry flakes.
Whew, thanks for reading! I know it was long--even for me!--but I hope it gives you a pretty good idea of what the product is like! And of course, let me know if you have any questions and need any clarification! And for anyone who has already used this product, please share your experiences in the comments!
Sataa, I hope this helps you in your decision-making!